The case for in-person conferences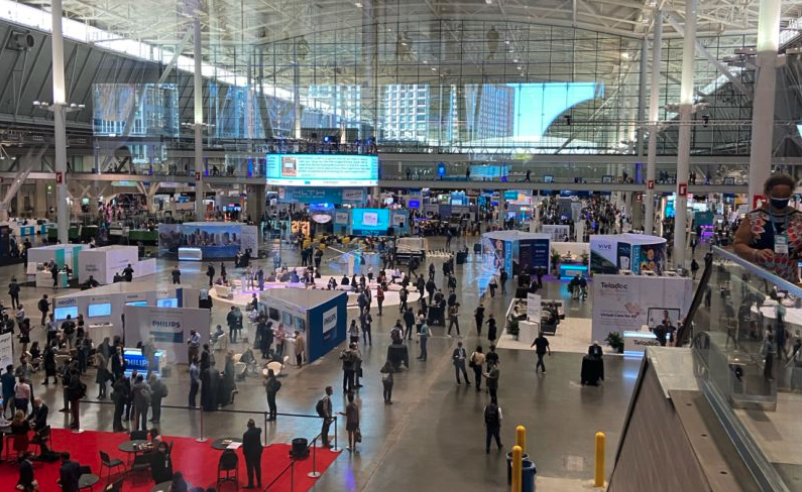 I almost didn't go to HLTH 2021 in Boston...but I'm glad I went it was an amazing experience to connect with founders who were actively building and raising rounds.
It was great to be in person at a relatively big event in October 2021, after all the virtual-only conferences in 2020-2021. This event really highlighted the advantages of in-person conferences over virtual, especially for folks who are looking to achieve something i.e., landing a customer, recruitment, raising a round of financing or inversely finding companies to invest in
If you're a big brand or are more heads down, I could see why virtual makes more sense — join a few sessions, present your story, and get back to work without the hassle of travel and unnecessary distractions.
I think also if you are a relatively nascent player in an ecosystem getting out in front of people face to face can help you capture their attention and get them to take you more seriously vs. endless emails, zooms and press releases.
Oh yeah and the after parties were pretty cool too. Omni hotel in seaport is elite.
If you're ever looking for a few swanky spots in Boston I enjoyed these:
Coffee
George Howell Coffee at the Godfrey Hotel
Food
Coquette
Committee
Drinks
The Sporting Club (inside Omni Hotel Seaport)
Lookout Rooftop and Bar
I went into HLTH with a portfolio that was largely centered around B2C companies so I was looking to find opportunities to invest in teams that were building software for the enterprise, practices, or hospital systems.
HLTH's funding founders platform was a great way to set up quick 10-minute intro meetings with CEOs & Founders to get the quick story and see if there was good chemistry and alignment on vision. I found that because the stakes were so low for a simple 10-minute meeting in between sessions or other meetings, a lot of folks were very open to connecting.
I was fortunate to get time with a bunch of exciting companies and ended up investing in 3 new startups with a B2B focus that are all tackling very different, and compelling problems:

Condor: Revolutionizing Biotech finance.
Koda Health: Advance Care Planning software.
LenaHealth: Concierge for patient journeys.
My Takeaways:
While pretty much every theme across digital health was well represented and discussed at the conference there were a few areas I spent more time in:
1. Interoperability is hard.
There are a lot of moving pieces here. I learned I don't exactly know which companies will be winners and which will become commodities. Timelines for implementation keep changing as folks like Epic et. al keep getting extensions from the government. This was an area I was hoping to invest in from the conference but was unsuccessful as deals were moving very fast and there really weren't many companies at the Seed stage in this space.  Folks like Health Gorilla and Particle Health had a good presence with sales reps and sales engineers providing helping explanations to laypeople like me. A startup to keep your eye on in this space is Pluto Health, they have a strong product vision and the founder is impressive.
2. AgeTech is coming.
AARP had a nice booth area and I actually spent a decent amount of time looking at companies and trying to understand the opportunity set here.
A handful of companies were working on RPM (remote patient monitoring) solutions that required a hardware component at home.  I like this idea of RPM but it can be a challenge for a startup to deliver a hardware component given the higher costs and/or increased logistical issues from partnering with a 3rd party vendor that provides the hardware as a white label.
Exercise & Strength training startups are emerging as part of the preventative health thesis given how many seniors get injured through loss of balance / falls each year. The challenge as always with preventive health is securing insurance coverage.  A few startups in the space to watch are Roxie Health and BOLD.
From this cohort of companies, I ended up investing in Lena Health which builds software for care navigation for ACOs and health systems, funneling seniors to the right care at the right time and savings health organizations' costs by scaling up their customer support functions.
Primetime Partners in NYC is one of a handful of venture funds exclusively focused on the AgeTech market.  Reach out to them if you're building or investing in the space.  
3. Accelerators Sponsored by Health Plans or Hospitals can be very useful for Digital Health Co's
Accelerators aren't new, but for Digital Health Co's they could actually prove very impactful at the early stage depending on the organization that is sponsoring the accelerator.  There's a lot of chatter about whether or not Accelerators add much value and if the valuation is too low to make it worthwhile for the best companies. Those are fair questions to consider but a model I think makes sense is what Texas Medical Center (TMC) is doing with its accelerator.
Essentially 1 digital health startup and 1 medical device tech company per cohort get access to a subset of TMC's hospital operations / patients to test and refine a business hypothesis around improving patient care and/or hospital operations. This is a good model because it puts the startup in front of customers right away and TMC goes so far as to provide the company their first pilot users if the team successfully demonstrates a potential need.   I was impressed by the founders coming out of this cohort, and invested in 2 (Koda and Lena). Others included Roxie Health and Vincere Health.
Takeaways from other attendees that I found interesting:
Coming out of COVID, we've seen a shift in consumer-focused companies turning to B2B2C models and direct contracting with employers and health plans who have the greatest buying power. Likewise, companies have recognized the opportunity to capture additional revenue by engaging in value-based contracts, including shared savings, preferred provider pricing, or case rates
Shahzad Zafar, CTO, Rx Savings Solutions
Several HLTH speakers talked about how new interoperability standards will force everyone to make data available. However, there's real concern that most healthcare entities will provide just enough to check the compliance box. Also, there's little work toward completing the workflow—where data can flow into point solutions that generate actionable steps and feed those actions back into health systems.
Today, these integrations are made one provider and solution at a time. There is hope that by 2023, FHIR (Fast Healthcare Interoperability Resources) standards will allow some actions to be streamlined, specifically around prescriptions.
And, yes I will be going to HLTH in 2022 in Las Vegas (Nov 13-16)