This inaugural post will introduce a series of posts on the Digital Health market where we dive deeper into niche verticals like interoperability, trial software, age tech and where AI can be used in the (distant?) future.
We'll cover other sectors in tech later on but given how much activity is happening in the space, and not to mention the size of the market ($3.8T US Healthcare spend in 2019 alone, clocking in at 18% of US GDP) it makes sense to start here.
US health spending is projected to grow at an annual rate of 5.4% for 2019-28 and to reach $6.2T by 2028.
Centers for Medicare and Medicaid Services (CMS)
Heading to the HLTH conference in Boston next week, Oct 17-20, and will have a post on takeaways.  Hopefully will bump into a few of you there!
---
Digital Health Resources
If you want to stay up to date or go deeper into the Healthcare rabbit hole below are a few gateway resources to start your journey.
Rock Health, CBinsights, Bessemer Venture Partners Healthcare blog, a16z Bio blog, Out-of-Pocket,  CDC Data page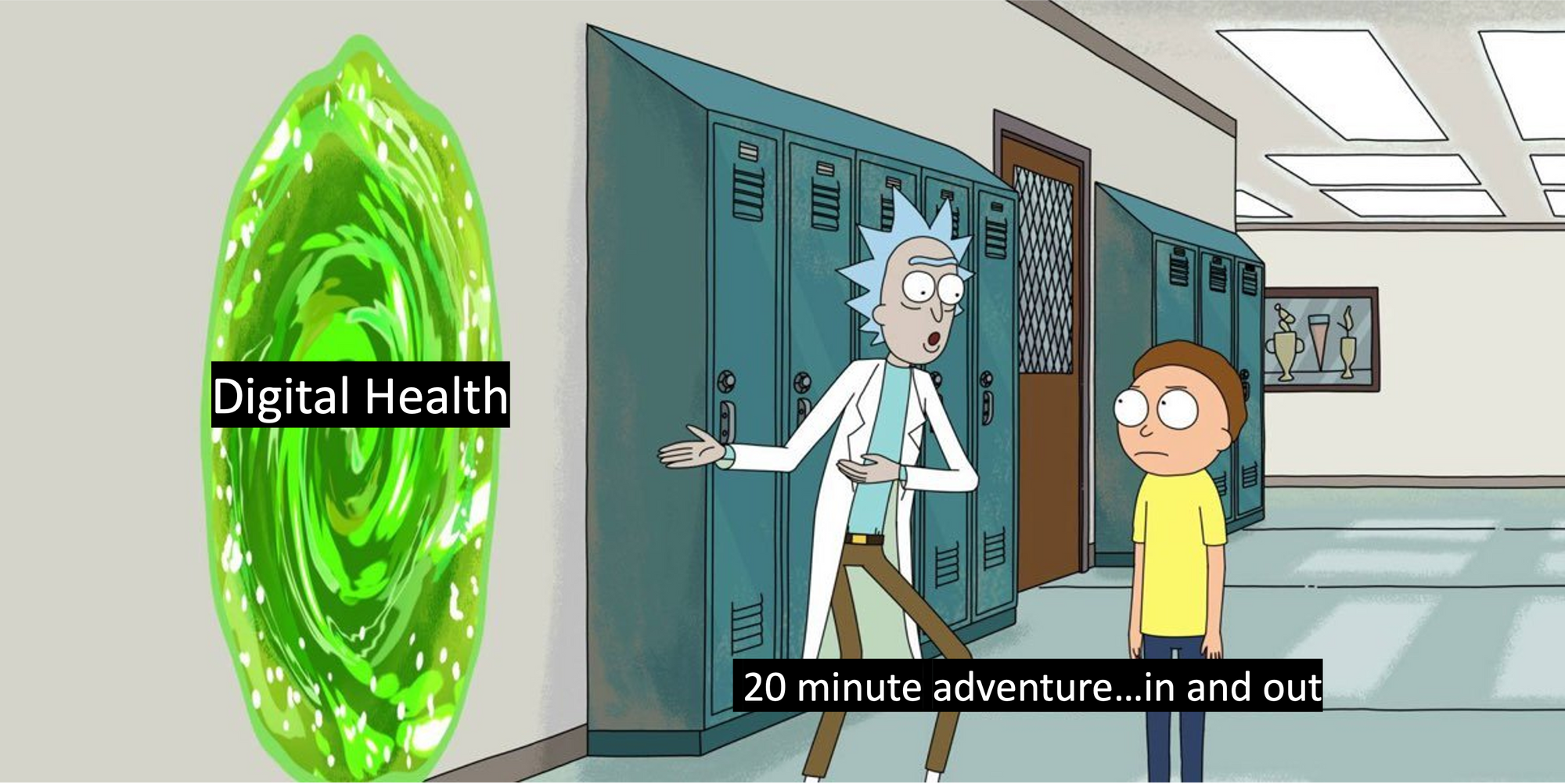 ---
News (longer than normal)
On October 13, 2021, Mindbody announced it would acquire ClassPass in an all-stock deal while securing a $500M investment from State Street (the same outfit that co-led a $1B financing into AirBnB at the height of the pandemic, in a now-famous deal) to help finance the Pro-forma entity.  This is an interesting combination of two OG tech companies in the fitness space.  
Mindbody, the SMB software provider for boutique fitness studios and hair salons, was acquired by Vista Equity Partners in December 2018 for $1.9B shortly after the stock took a nosedive on lackluster guidance.  The deal was struck at $36.50 a 160% gain off its IPO prospectus price of $14.00 in 2015.  It's likely Vista and Mindbody are considering an IPO in the next few years which would line up with a five to seven-year hold period for the PE fund.  With in-person fitness boutiques and salons (Mindbody's core customer base) being hammered by the pandemic, Mindbody may be in need of a new catalyst for growth to support an eventual re-IPO.
ClassPass for its part has had its ups and downs since being founded in 2012.  The company seemed to have found its footing with a new dynamic pricing model and fresh funding of $285M to boot in Jan. 2020 from L Catterton and Apax Digital at a $1B valuation.  Then COVID hit and the company had to cut half its staff in Apr. 2020 and reported that 95% of its Revenue had vanished overnight.  That $285M was well-timed as it bought the firm time to weather the storm.
This will largely be a cross-sell opportunity between the two firms.  As a glutton for punishment myself (looking at you Barry's & SLT) I hope they succeed and can provide tools that help boutiques thrive.  Because no one wants to work out at Globo Gym.  
Listen to the CEO's discuss the deal:
Honorable M&A mention for Headspace & Ginger which happened a few months ago but we weren't live yet to cover the story.  This could be its own post so will just put the link below for those that want to dig in but it's a big milestone in mental health care as consolidation begins and competition heats up against Talkspace and Calm in the Enterprise market.  
---
Digital Health | The Data You've Been Craving
Key trends driving adoption and investment in Digital Health
💲 Rising Costs of Healthcare Yet Patients Left with Lackluster Outcomes
🏥 Telehealth Options Increasingly Covered by Payers & Large Employers

👵🏽 Aging Population Likely to Put Significant Strain on the Healthcare Market
🧠 AI Emerging As Means To Improve Diagnosis and Patient Communications

🧘‍♀️ Wellness & Preventive Medicine Growing In Popularity With Consumers

📚 Regulatory Environment Increasingly Facilitating Digital Transformation
We'll see these themes show up in subsequent posts in the Digital Health series but it's helpful to set the backdrop for some of the data.  
Let's look at who's paying for that $3.8T of annual Healthcare spend referenced at the top of the post.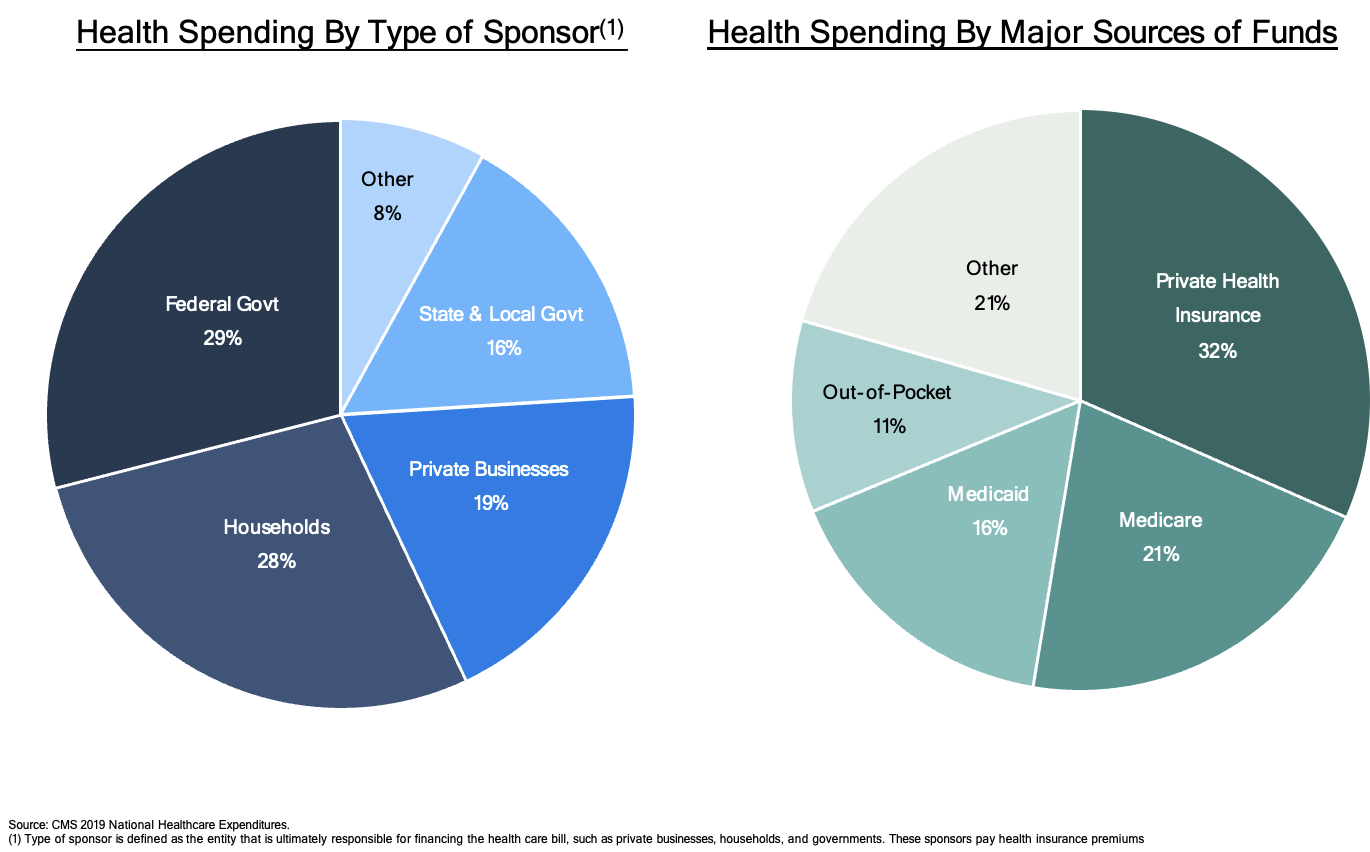 With Medicare and Medicaid paying for approximately 37% of all US annual Healthcare expenses, it's clear why recent proposals by Congress to let the 'Medis' negotiate drug prices would have massive implications for drugmakers and consumers writ-large.
Over 50% of respondents in a 2020 Gallup survey feared bankruptcy due to a health event and based on the data their concerns are justified.  The chart below maps the price increases of Hospital Services since 1998 and the price growth outpaces even those Universities we're so mad with for racking up student debt.  
Okay, let's be positive.  There's lots of great innovation happening and due to COVID the shift to telemedicine and digital health has been staggering.  Credit is due to the Federal and State governments that modified regulations to allow doctors to provide telehealth consultations across state lines, among other nuanced adjustments like allowing a wider range of telehealth codes to be reimbursable under insurance plans.
The private and public markets were ready to do their part and provide record levels of financing to public companies and startups alike to help quickly build the digital health infrastructure our country has needed for a long time.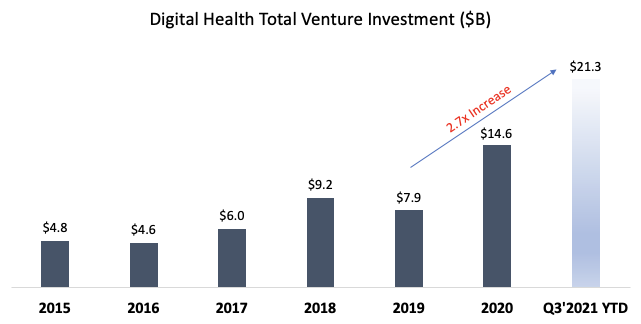 Where's the immediate opportunity that startups and VCs were/are chasing? The first area of investment and digitization has been in building and delivering telehealth capabilities.
$250B worth of spend is low-hanging fruit for Telehealth players today.  That's a lot of revenue up for grabs to support some of the lofty valuations we're seeing out there.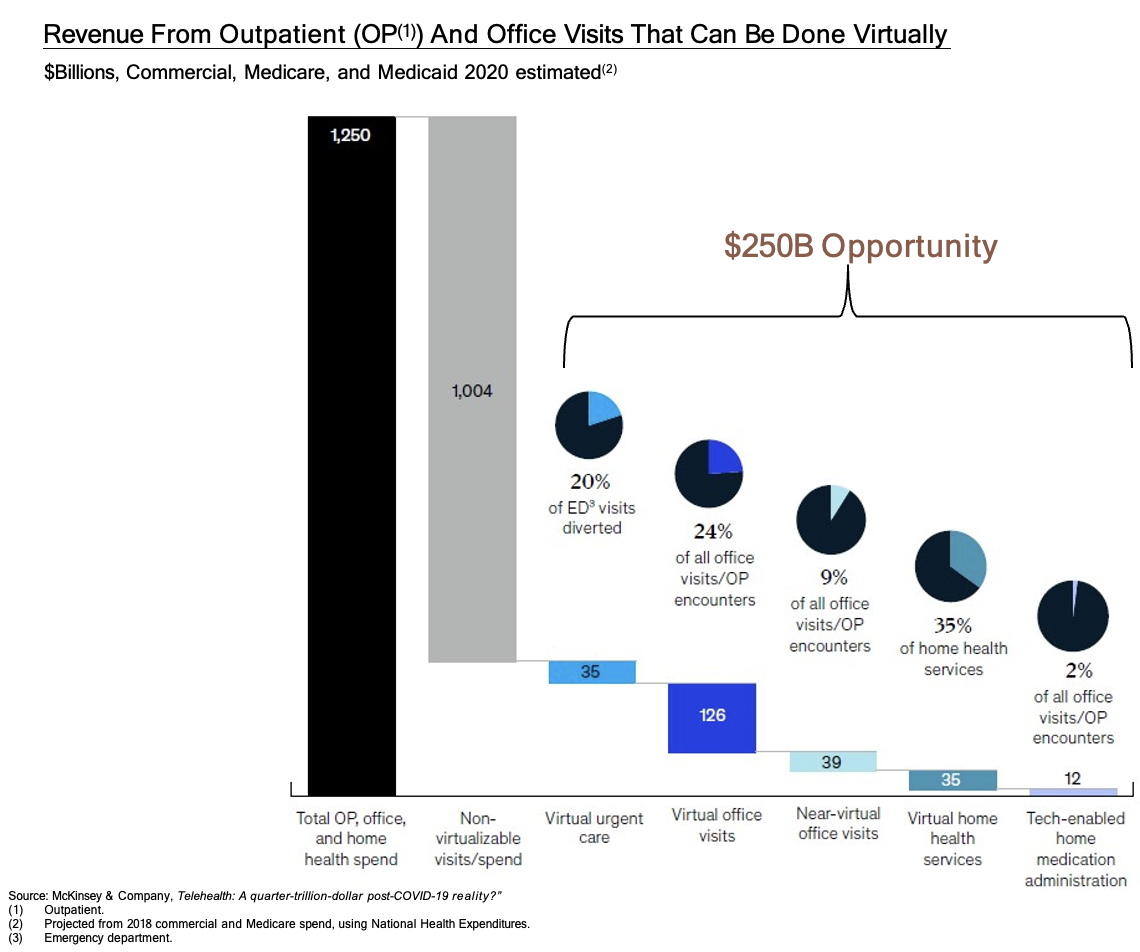 At this point in late 2021, investors have already sufficiently chased basic Telehealth services to the point that any new startup in the digital health space almost HAS to have these capabilities or offer value in another way.  Not many upstarts can get credit out there for solely being an also-ran telehealth play.  
The big winner from this category through 2020 and 2021 has been Teladoc (registering a whopping $22B market cap thanks to its $18.5B acquisition of Diabetes management firm and Digital Health darling Livongo) and Zoom Health with a ton of startups chipping away at their market share.
So what's left?
One of the most challenging trends underlying the US healthcare system and the US population is the prevalence of Chronic Diseases and Pain.  
Do you know someone that falls into one of the buckets below?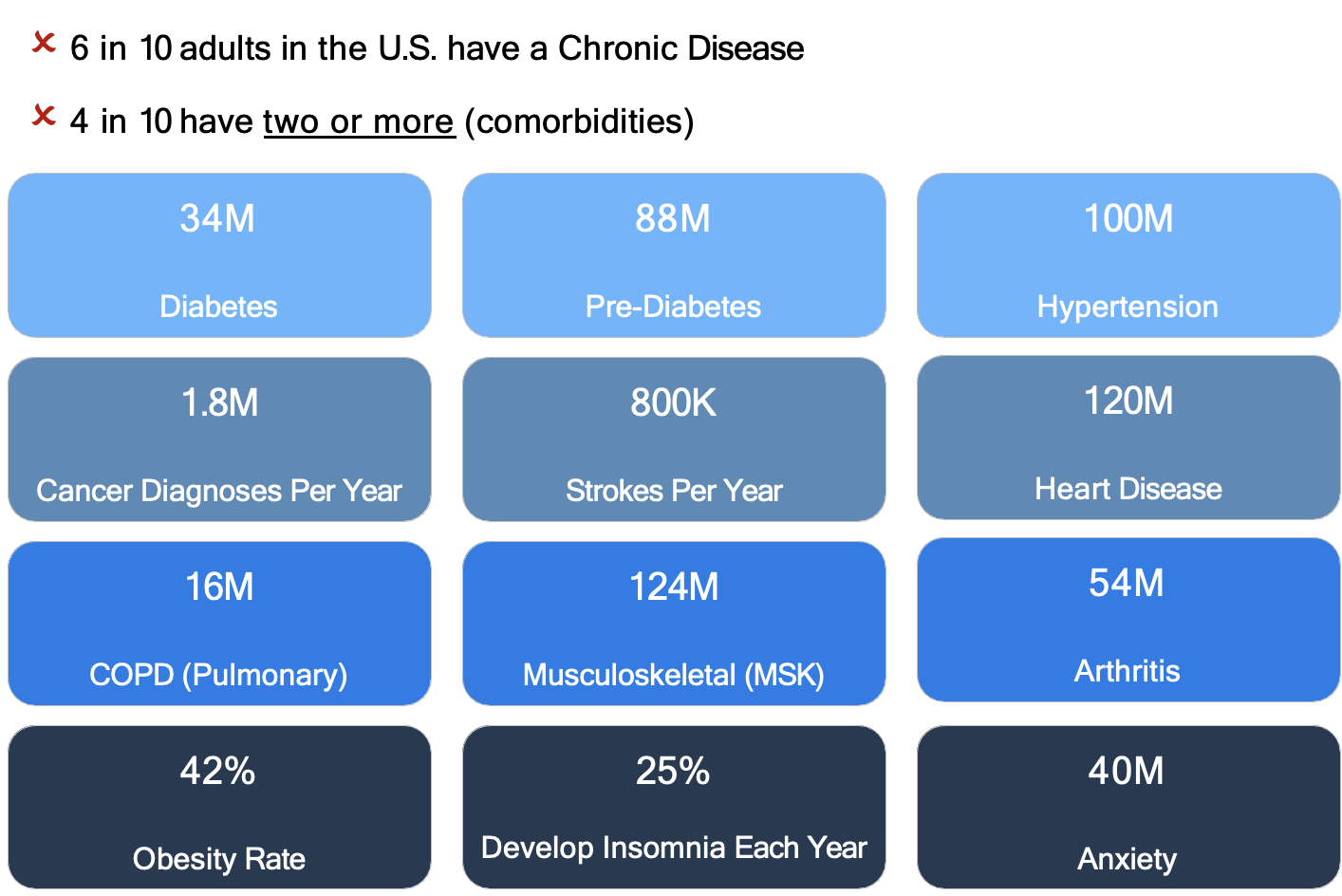 Chronic disease management is probably one of the most logical and best use cases for Digital Health solutions, from at-home monitoring therapeutics to virtual coaching and messaging with niche experts.  Without a digital solution that meets the patient where they are, the solutions to chronic conditions range from "suck it up" to "here's a pill" to "we can try this sketchy surgery but it might go terribly wrong" oh, and let's not forget the cortisone shots.  
The challenge with managing a chronic condition is partly that we really really want an immediate solution, the magic pill, but oftentimes the science hasn't gotten there yet and we need tools that can help us manage our condition in our daily lives, not just when we see the doctor every 3-6 months.  
The below is one of the craziest charts I've ever seen and best illustrates the crisis we have with Chronic disease in the US.  
Heat Map of US Population with Type-2 Diabetes (red is worse)

The startups going after chronic care are getting the most attention right now so won't spend too much time covering them but they include the likes of Livongo (the leader IMO), Virta, Omada, Lark, Glooko, and of course Noom.  The problem is so acute and the market so large that I've thrown my hat in the ring as well as I discuss in the About page, backing a company that will help users lose weight and keep it off through mindful eating.  
Teladoc/Livongo has the pole position with Enterprises (the lifeblood for many of these chronic care companies) but the other players have a bit stronger brand in certain demos/geos.  Expect some consolidation in this space similar to the Headspace/Ginger deal.  These startups are starting to be well-capitalized to the point where IPOs or M&A is the next logical step in the ecosystem.  
Beyond Telehealth & Chronic Care, funding is pouring in for niche applications, software, and services across the entire healthcare ecosystem.  Below are a few private companies I have my eye on.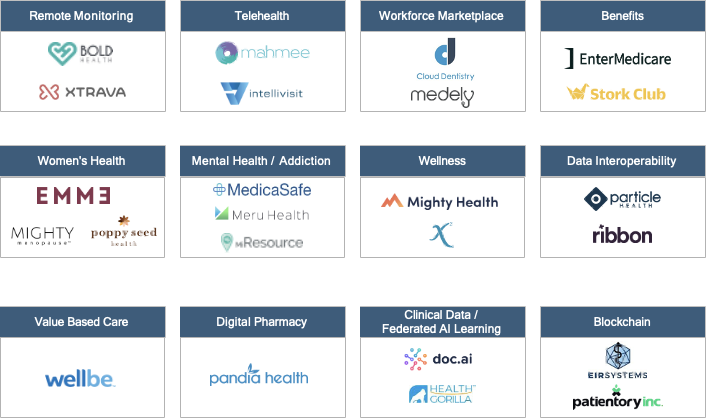 This post was meant to set the stage for some of the activity in the Digital Health space, and obviously, a lot was missed or left out.   We'll go deeper into specific niches in future posts.  
---
Until next time,
Michael
michael@laborcapital.co
✌
---