Heading to Work-Bench VCs Enterprise Tech Meetup tonight in NYC, in honor of them being software investors today I'm highlighting two early-stage B2B startups worth keeping an eye on - TrueFoundry & Pace (Work-Bench Port Co.)
Work-Bench has a helpful substack for folks looking to keep up with financings and deals in the space.
If we don't cross paths at the event feel free to reach out if you have Investments or run a Startup you'd like to highlight in future posts.  
*Note I am not an investor or involved in either company. Neither the companies nor their investors contributed to this write-up.
TrueFoundry | Accelerating ML so you can feel like a FAANG
TechCrunch had the scoop today on TrueFoundry's $2.3M Seed financing led by Sequoia India's Surge with participation from Eniac Ventures and angels, including AngelList co-founder Naval Ravikant.
From their website: TrueFoundry gives Data Scientists and ML Engineers the fastest framework for Post model Pipeline. We enable instant monitored endpoints for models in 15 minutes with best DevOps practices"
In layman's terms, they make engineers & ML ops at smaller companies work "10x" faster so ML models can be tested faster and at a rate that is more comparable to a larger tech company.
The San Francisco, California–headquartered startup automates repetitive tasks in the machine learning pipeline to allow data scientists and engineers to focus on higher-value, more creative tasks. Built on Kubernetes, the custom platform works as a cloud-agnostic solution that can be deployed on Amazon Web Services (AWS), Google Cloud and Microsoft Azure. - TechCrunch
TrueFoundry's vision for its v1 MLOps platform is to provide a seamless MlOps platform that focuses on the post-model building pipeline and makes it really easy for data scientists to deploy, monitor, and retrain their models. From their blog post on their Vision they illustrate where they can save a Data Scientist time (gray areas are where they help speed up the process):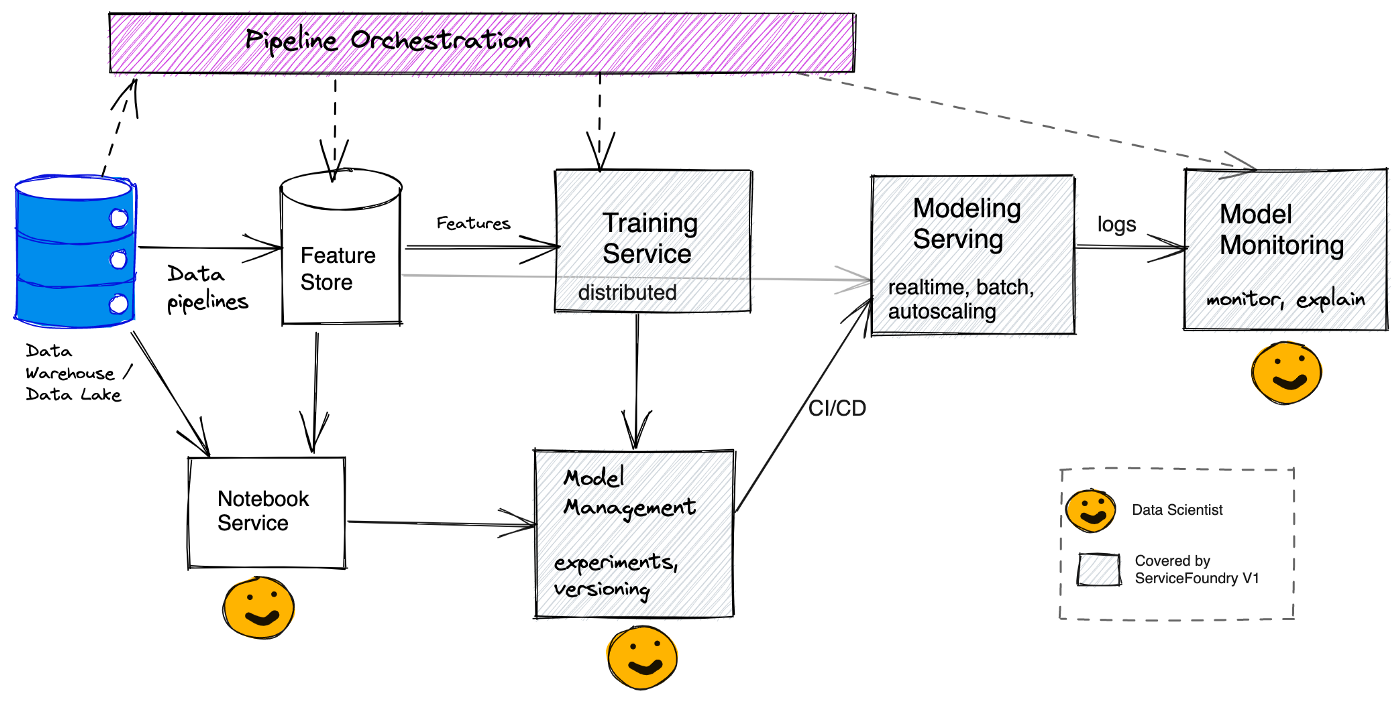 There's a lot going on in the MLOps ecosystem, and the theory is that small startups won't have the technical chops or sufficient data to warrant building out their own ML capabilities or if they do they will dramatically lag behind the FAANG or other massive companies with access to larger datasets and teams of engineers.
In a recent "State of Data Science" survey done by Anaconda of ~4,000 students, teachers, and employees in data science, ML and AI the survey found that of the students surveyed, 27 percent hoped to work for a well-established startup, 23 percent for an industry giant, and 22 percent for an academic institution or research lab.
Doesn't leave much for fledgling startups out there.
The company sees a need for faster deployments solutions, pointing to the observation that
Almost 90% of ML models do not end up in production. For the models that make it to deployment, 50% fail due to absence of monitoring systems and 30% have to be reverted due to scaling and latency issues that are often overlooked during the data training stage. - TrueFoundry founders
TrueFoundry has a strong team from Meta and a clear product vision but it seems they'll be starting at the low end of the market by helping small startups deploy these models faster, as evidenced by their $5/month pay-as-you-scale model. With a low starting price, they'll need to tap into larger engineering organizations over time or hope that the startup customers they acquire are pushing large volumes of data through TrueFoundry's solution. As we've seen with Snowflake and other consumption-based software models, revenue visibility can jirate based on market conditions but it can also lead to faster customer wins as the barrier to try is much lower than a typical software deal.    
TrueFoundry is not alone in trying to deliver ML solutions to startups. The battle for mindshare here will be fierce as companies like DataRobot look to offer an all-in-one solution. Their $300M financing in the summer of 2021 is going to give them a clear advantage in sales channels and engineering hiring.  Oh and let's not forget about Databrick's $1.6B financing round at the peak of the market in August 2021.  
Other notable companies include Tecton and Arize, though to be honest the list of companies is starting to grow so large that it's hard to keep track...well someone is keeping track here.
A positive characteristic of this market and other highly technical markets is that, in theory, the best technical solutions should have a real edge vs in consumer or internet where advertising and virality oftentimes trump pure product functionality.  But given how many folks are competing in the space I would tread lightly as an investor and make sure the team you are backing has a deeeeeeep understanding as well as the ability to attract talent because engineers with this skill set do not want to work for a middling company, they want to work at the best as evidenced by the survey results posted earlier.  
Either way, it's encouraging to see funding into this space to bring advanced computational tools to a larger set of companies so that the FAANGs are the only ones who get to use them.  
To learn more about their plans post-financing read their blog post on how "Every Company will be a Data Company"
Pace | Product Led Growth (PLG) is So Hot right now
This is a Work-Bench investment and they have a nice write-up on it on their blog:
This was a $5M Seed from Work-Bench and AlleyCorp, among others, for Pace which enables the transformation from traditional enterprise sales motions to a hybrid, product-led approach.
The team has a strong understanding of what it takes to transform an organization into a PLG operation from their time turning MongoDB into the juggernaut it is today (Fed rate hikes be dammed).
There are a lot of companies finding success with PLG models and many more experimenting with it to see if it will result in faster customer wins and stickier hooks over time.  Slack is one of the OG bellwethers that proved you could build a large business using PLG. Others like Figma and Zoom come to mind.
So now everyone else wants in, but for some companies, it might not be so obvious how to deploy a PLG growth strategy into their sales channels. Especially if they've already built an established GTM motion and are looking to optimize and experiment with a hybrid model.  That's where I can see Pace adding a lot of value.
From Pace's blog:
At Pace, we believe the new enterprise software go-to-market strategy will be event-driven. Companies will choose how (and through which channels) they engage with their customers based on the previous events in a user and account's journey. Our goal at Pace is to be the underpinning software for this new strategy.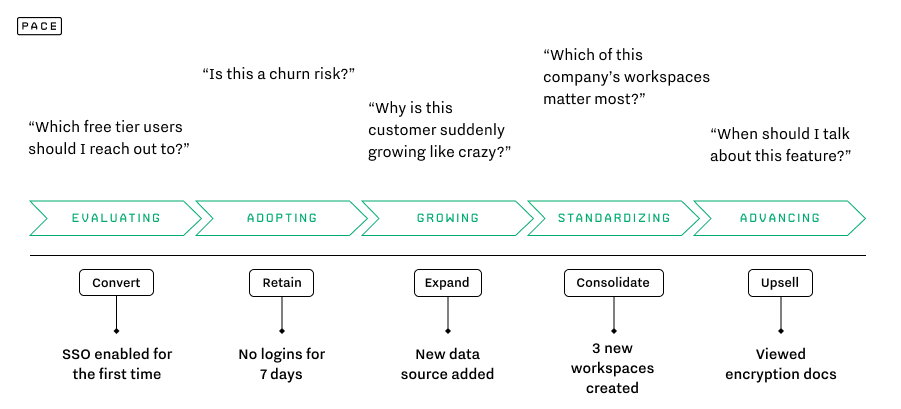 Pace's current product suite helps solve for the "PLG CRM" which was nicely summarized here by Astasia Myers @ Redpoint...missing Pace though!

Pace wrote up a clear summary as well and in their own words: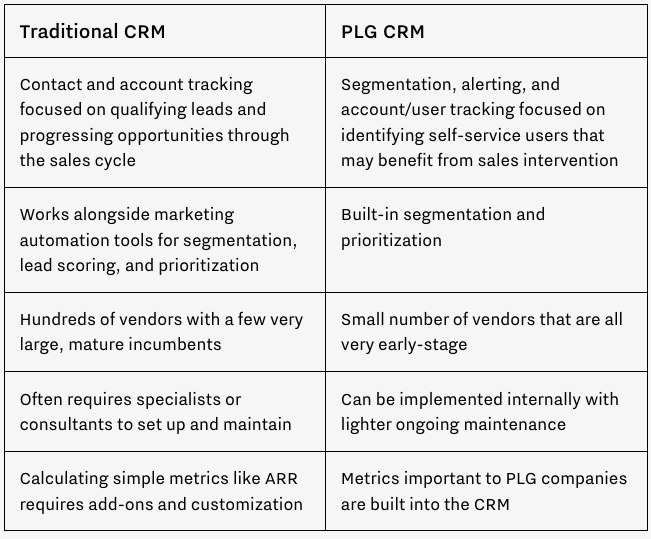 If you want to dive deeper into PLG, OpenView Ventures has an amazing series on tactics and strategies, including their monitoring of public companies they would categorize as PLG.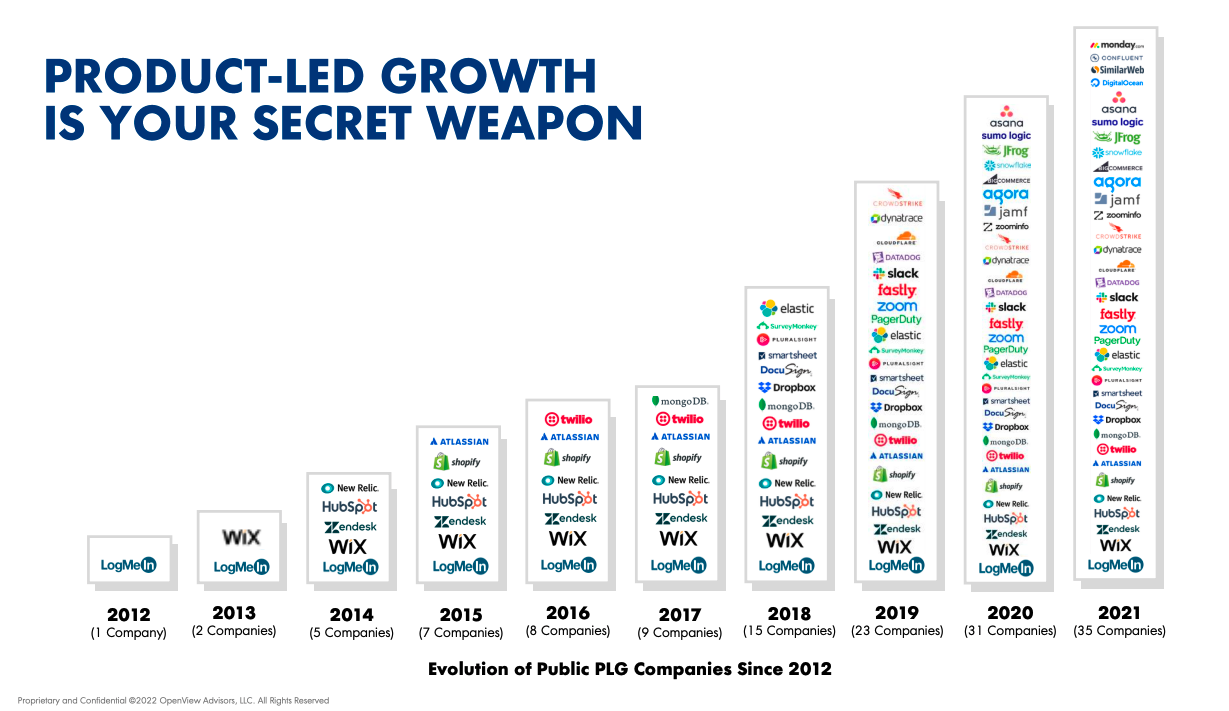 A few startups I've invested in are exploring PLG strategies and I expect more established players throughout the software industry to experiment here as well, providing a nice market tailwind to Pace's ongoing growth.
If you invest in or operate at a startup in the MLOps or PLG enablement markets would love to connect, shoot me a note at michael@laborcapital.co